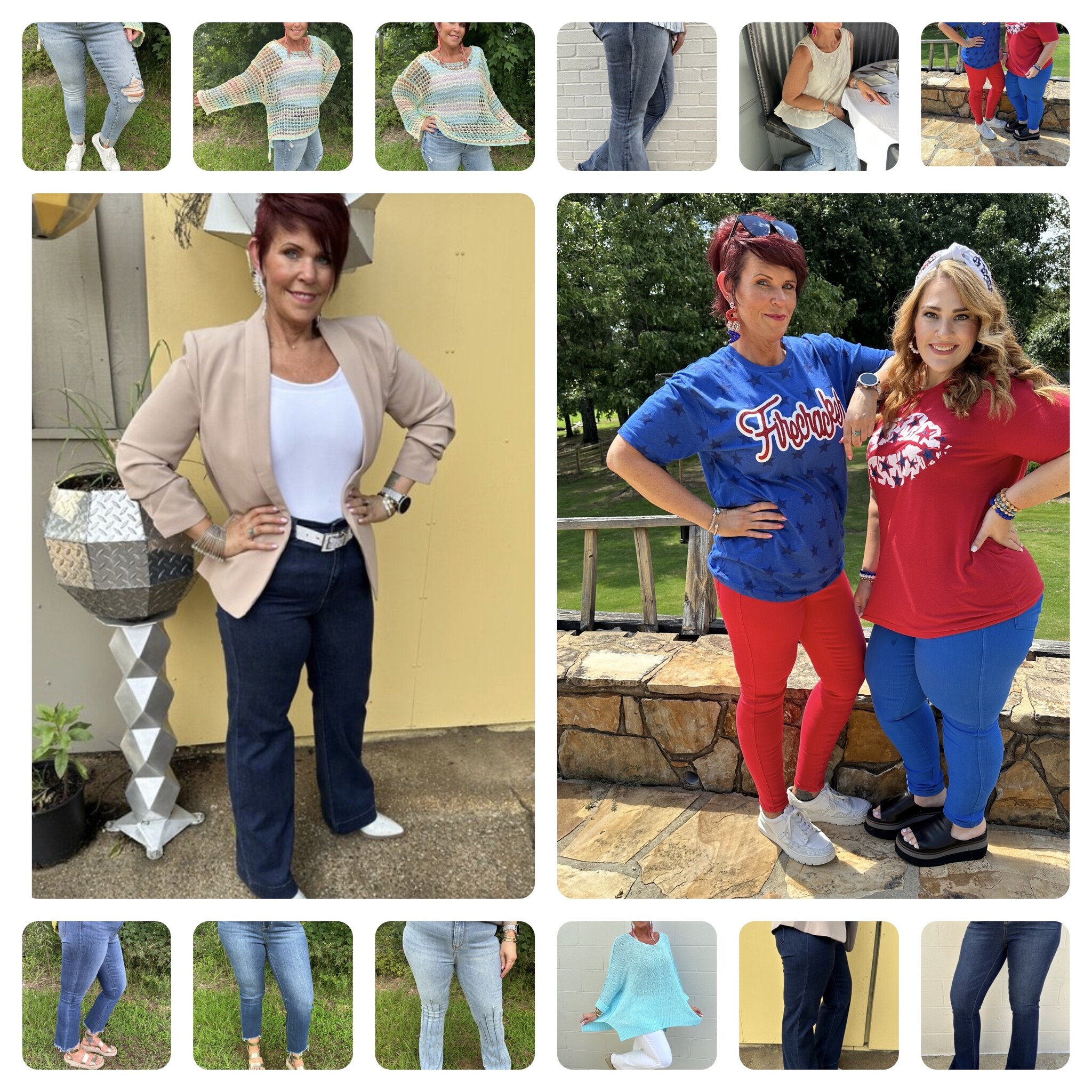 All Things Denim
My Gypsies, I have seen your questions and concerns on our socials about our denim, and I am here to give you the 411!!! We have a massive collection of Judy Blue Denim. You asked, we ordered!!
We have the popular midrise slim fit with shark bite that sold out last year when we introduced it to you, and we finally got some restock for you. It is a perfect jean for a little flair for any outfit. The legs are slightly distressed, and the shark bite hem looks fantastic with your cutest kicks or best wedge. The important part, the inseam! The length on this jean is short girl friendly, but an adorable ankle pant on the tall girls. It is a jean for everyone. The inseam is 28 1/2", and the front rise is 9 3/4". The relaxed fit jeans are the fuller cousin of the slim fit. The legs are very similar in fit, but a little more room in the hip area. We have this fantastic patchwork midrise relaxed fit jean in store. You guys like the edge of the distressed look, but skin showing is not always acceptable. This pair of jeans has you covered! The distress holes are patched with a darker denim. You have the best of both worlds. The inseam of these jeans is 29", and the front rise is 9 3/4". Again, these can be a full-length jean on our petites, and stylish ankle jean on our tall clients. Now, if you guys have been following me, you know I love a BOYFRIEND jean!!! Or, let me say this, I love the Judy Blue midrise boyfriend jean because it is NOT bulky and baggy like other companies. The new boyfriend jean is a long length option. This new midrise distressed cuffed boyfriend jean is 29" inseam cuffed, and 34" uncuffed. It is a dirty light wash denim that we do not see as much, so it is so fun for outfitting with your bright neon and your "keep it cool" neutrals. The front rise is 10", so they give you a smidge more support. 
For my wear to work denim girls, I have two pair of trouser jeans you will love!! I know I do. We have photographed in both pair a few times, and I always like the clean lines the wider legs and longer lengths. I love a dressy denim. The 2" hem high waist trouser flare is the best mix of casual, comfort, and class. The front rise 10 1/2", which perfect to pair with a bejeweled belt for a little snatching effect. The inseam is 33", and wedge or boot ready! The high waist clean wash trouser wide leg is my new go to for a dressy denim. The silhouette of a trouser pant, with slant pockets, yet the comfort of denim. The inseam is also longer for a good wedge or heeled boot at 33.5". The front rise is 11", and it gives you such a good waistline shape. Always pay attention to your seams, and where they fall on your figure. SEAMLINES ARE LIFE. 
Now to you fun and funky flair lovers!!! We have the red and cobalt blue high waist garment dyed skinny jeans. They are vibrant and ready for a good time. The front rise is 11" and so supportive. The length is 29", which as you have read is a friendly length for all if you style it with love. All of my Northport ladies and loves need the cobalt blue! They are perfect for the local schools surrounding us. And RED, what can I say? FIRE!!!! You need these!!!!
Lastly, let me talk about the newer trend in the universe, the kick boot jean. I have to admit, I was skeptical a few years ago when I saw this trend begin. I think they are finally perfecting it, and I REALLY like Judy's version of the kick boot jean. They fit slim in the thigh and hip like your traditional bootcut jean, but they are a couple inches shorter than you would normally expect. That is the fun part. The hem is distressed and frayed and "kicks" out above the ankle. The inseam is 28 1/2", and ready to pair with your favorite fun wedges or festive booties. 
Guys, we always try to keep our trusty Cello jeans, but ordering lately just has not been a happy sitch, we are on backorder a lot. But we will continue to try to get your faves back in here. The inseam on the Cello denim varies from 30" to 33". You just have to come by and catch them, like most things around here that we LOVE. 
I hope I covered some of your questions. I know I did not get all the jeans listed, but without mystery what fun would be in the fitting room when you accidentally fall in love with a new pair of denim? Anytime you need me for a special fitting session, message me or call me. I'd love to get you fitted into a pair of jeans you can't live without.
I love you my Gypsies!!! See you Soon!!!